Tim has provided physio services for the HKFC Rugby section for 10 years. He now runs CoreOFit, providing a comprehensive set of physio services ranging from sprain & strain rehabilitation, post-op rehabilitation, office ergonomic assessments, chronic and acute neck & back pain treatments, to running gait analysis & retraining, orthotics, core assessment & strengthening using Real Time Ultrasound Imaging.
Tim adopts a team approach, working cohesively with family doctors, surgeons, coaches, trainers and family to expedite patient's recovery from injury.
He is a registered physiotherapist with a keen interest in sports injuries, as well as running gait & core analysis. He has extensive experience working with athletes from a variety of sports (skiing, running, rugby, hockey, soccer, kayaking, swimming, triathlon, adventure racing & ultramarathon), providing treatment and training programs at all levels from novice to Olympian.
Tim has also spent several years working in the industrial sector in Canada, gaining a wealth of experience in ergonomic assessment and occupational rehabilitation. He has an in-depth knowledge of office ergonomics and strategies to prevent chronic neck, back & upper limb overuse injuries.
Tim is an active sports enthusiast, engaging in many sports, including adventure racing, marathon & ultramarathon running, whitewater kayaking, water & snow skiing, snowboarding, kiteboarding, tennis, golf and anything that looks like fun! His younger days saw him represent N.S.W. in tertiary Rugby League.
Claire has worked as a physio in both the hospital and private practice sectors for a few years. In Australia, Claire worked as a physio in both acute inpatient and outpatient settings at a few renowned private hospitals in Sydney, with a particular focus on acute rehabilitation post-operatively for various orthopaedic, cardiorespiratory and neurological procedures. Claire then began to focus more intently on musculoskeletal, occupational and sports related injuries.
Claire is a registered physiotherapist with a particular interest in sports injuries and sports rehabilitation. Claire has been a physio for a number of sporting teams and athletes at various levels. Claire has had a close involvement with a lot of athletes and teams, including AFL, cricket, hockey, rugby, tennis, running and football.
Claire has had experience working with patients for a variety of conditions and injuries, including acute and chronic neck and back pain, sprains and strains and post-operative rehabilitation. Claire enjoys working with people across a diverse spectrum of ages, including pre-natal babies all the way through to the very elderly. Claire enjoys implementing a strong hands-on approach, with a focus on manual therapy, exercise therapy and core strengthening.
Claire loves playing many sports and has played a range of sports at a variety of different representative levels, most notably playing cricket for NSW in representative junior and development teams.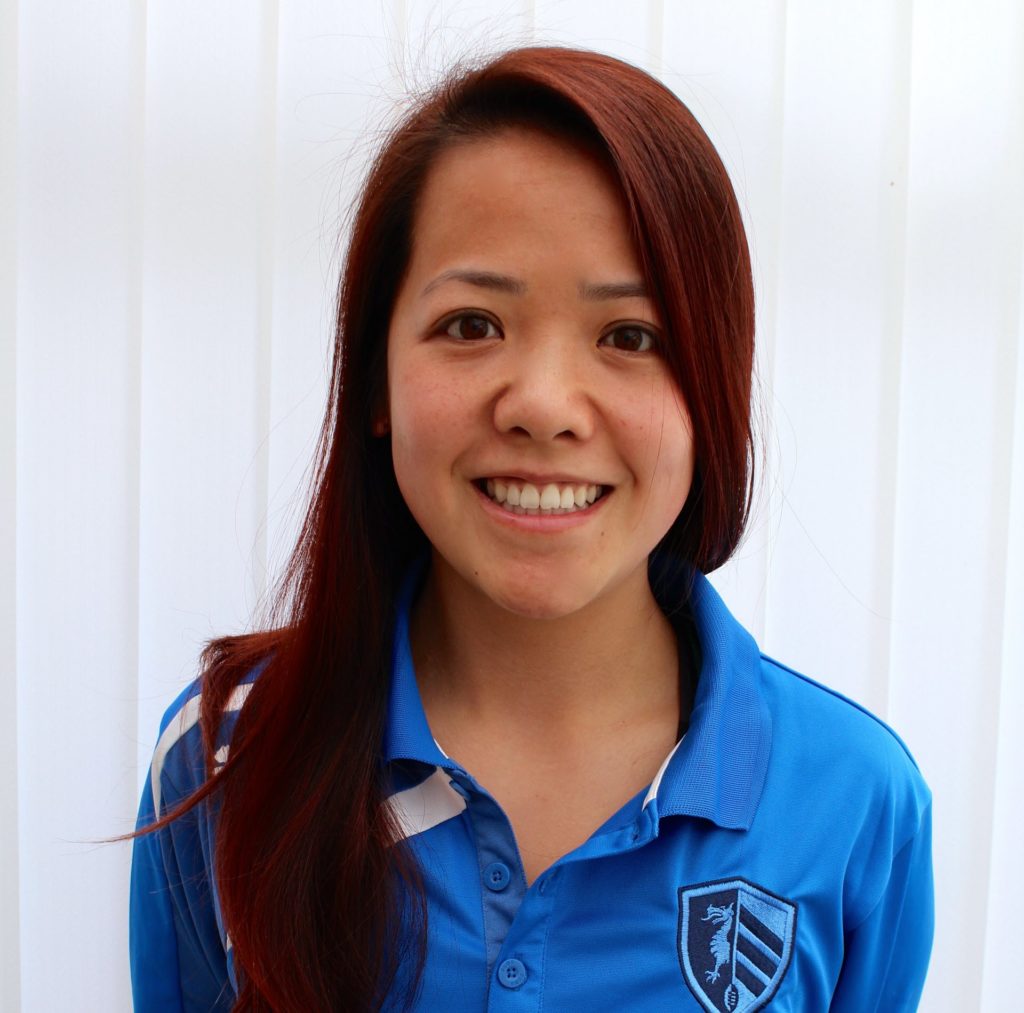 May Lee
BSc, Dip SMT, MSMA
Sports Massage Therapist
May is an Internationally experienced Sports Massage Therapist, she focuses on deep tissue massage to aid recovery, optimise performance but also general health and well-being. Throughout her years of training and watching others train, May has found that many people neglect the recovery process (stretching, resting, eating, etc). The recovery process is fundamental for muscles to grow and develop and more importantly to reduce injury in the long run. Deep tissue massage helps to smooth out those little aches and pains you experience in normal day to day activities such as walking, running, sitting, lifting etc.
May has studied Sports Science at degree level and has completed her Level 4 Diploma in Sports Massage Therapy, along with Myofascial Release, Dry Needling and First Aid in Rugby.  She is currently working with Treharris Rugby Club and also TLV Cardiff who work with children with SDR by providing strength and conditioning programmes.
May has previously worked in Niseko, Japan as a sports massage therapist for the winter ski season as well as in a private international clinic and gym in Tokyo. May has worked with with Treharris Rugby Club and also TLV Cardiff who work with children with SDR by providing strength and conditioning programmes.  Previous to this she has volunteered with local professional and amateur teams Cardiff Blues and Cardiff City Rugby League. As well as rugby clubs she also volunteered for Dance for Parkinson's aiding in enhancing movement and muscle manipulation.
May has volunteered her time as a sports massage therapist for the Rugby World Cup 2015,London Marathon, London Triathlon, Cardiff Half Marathon, Positive East 5K Red Run, Netball teams and also at Gol Football Centre in Cardiff.
May has always had a keen interest in sports, training and exercise and in her spare time she enjoys weight training, hiking and traveling to exciting new countries!